About the Editor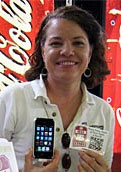 Carolyn Hasenfratz is currently employed as Creative Director of Webinar Resources. She provides the creative direction to the company's marketing, advertising and social media campaigns. She has extensive experience in designing web sites and interactive media, coding sites and interactive web tools, designing, building and maintaining client web sites and creating printed corporate identity and advertising materials. Ms. Hasenfratz has developed successful personalized, cross-media campaigns utilizing print, mobile, personalized web pages and email.
Ms. Hasenfratz took her first trip on in Route 66 in 1999 and joined the Route 66 Association of Missouri shortly afterward. She served as the group's Director of Internet Services from 2001-2013. During those years she was also a member of the Motor Tour Committee, for which she has designed a dozen t-shirts, as well as the Publication Committee. Her column "Jeep Girl's Journal" is featured semi-regularly in the association magazine "Show Me Route 66" and she writes a series called "Fit and Healthy on Route 66" for her blog.
After becoming a Route 66 convert, Ms. Hasenfratz was eager to spread the word about the historic sites of the Mother Road and the need to preserve these sites for future travelers to enjoy. She has entered several of her photos of Route 66 in art shows and has put on one solo show and one two-person show highlighting Route 66. She designs and sells rubber stamps of her own design through her company Carolyn's Stamp Store which features several Route 66-themed designs. Ms. Hasenfratz also designed two postmarks to be used as commemorative cancelations at the United States Postal Service booth at the Route 66 festival in Tulsa, Oklahoma in 2004.
Ms. Hasenfratz is passionate about historic preservation on Route 66 which led her to start her own web site "John's Modern Cabins News" which was originally intended to bring attention to an endangered historic Route 66 motor court in Missouri. The web site has evolved to encompass news of and to encourage historic preservation all along Route 66. A free directory for historic businesses on Route 66 is included because Ms. Hasenfratz would like to make a contribution to the economic health of the Route 66 corridor in order to keep historic businesses alive and thriving.
The web site Sell66stuff.com was conceived by Ms. Hasenfratz as a vehicle for helping bring products that can be marketed on Route 66 together with the right retailers so that all businesses, historic or otherwise, can reach more travelers on Route 66. Sell66stuff.com, launched in 2011, features free directories for retailers, wholesalers, and event promoters who want to attract vendors or market products on Route 66. In 2012, a new fee-based mobile directory geared toward retailers with a physical location was launched and in 2013 a special Vendor Guide to help vendors find annual and recurring events was added.